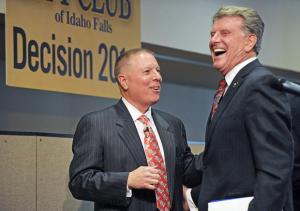 November 2, 2014 – A. J. Balukoff for Idaho Web Site –
By A.J. Balukoff
Dear Idahoan,
A year ago, I entered the race for governor as a long shot. My goals were simple: Elevate our state's focus on education and the impact it has had on our economy, and give this campaign my best shot.
Then something unexpected happened on the long road to Election Day: This campaign changed the conversation. Idahoans began to see that I wasn't just business as usual—and more importantly, that I will put the interests of the people of Idaho first.
I have been humbled by the support and encouragement of many people. But those still on the fence hold this election in their hands. The U.S. Constitution does not give the president of our nation the opportunity for a third term, but here in Idaho, the restraint of the executive power is left to voters every four years.
Tuesday's election is a referendum on Gov. Otter's job performance. Voters must decide on three questions.
Question no. 1: Has Butch Otter earned a rare third term as governor?
There are more ways to answer "no" to that than most people have time to read about, so I'll just touch on the most important:
1. Education. We're dead last nationally in per-pupil investment, 95 of 115 school districts have had to pass tax hikes totaling more than $1 billion, and more than 40 districts have cut back to a four-day school week. All over Idaho, superintendents cannot fill open teaching positions. Instead of delivering on his 2010 campaign promise to prioritize education, Gov. Otter handed out tax breaks to the wealthy and corporations in 2012 and 2013—and tried to pass more this year. He championed and signed the Luna laws in 2011 despite overwhelming public opposition. Now he wants four more years to help our schools. I don't think our schools need more of his kind of help.
2. Economy. Here's a simple equation to explain our jobs situation: Education Disinvestment + Low-Skill Workforce = Low-Wage Economy. We're 50th in median income for women, 48th for men, near the bottom in per-capita personal income, and have the second-highest percentage of minimum-wage workers. Idaho's real GDP has dropped since Otter took office in 2007 (he claims it grew, but he's taking credit for inflation). At our debates, Gov. Otter's answer has been that families should do what his parents did when he came of working age: let the kids get jobs. My vision for Idaho has our kids continuing their education beyond high school and then getting high-wage jobs.
3. Corruption. Gov. Otter stalled an investigation into his big campaign donor, Corrections Corporation of America (CCA), for a year (the public was told there was an investigation when there wasn't). Then the state settled with CCA for $1 million—meaning the state can never pursue other civil damages from CCA, which could amount to millions of taxpayer dollars defrauded. At our last debate, he couldn't remember the amount of that settlement, didn't know it freed CCA from having to repay taxpayers (as at least two media reports have confirmed), and didn't know whether the amount was fair because the FBI investigation isn't done yet. Then why did he settle?! It's one of several scandals that are costing taxpayers millions. Butch Otter puts the interests of big campaign donors ahead of the interests of the people of Idaho.
When endorsing me, the Times-News wrote that Gov. Otter's "hyper-positive, campaign season narrative is a work of fiction." Truth.
The most important thing to Butch Otter is not that our kids get a great education or that you have a good job. The most important thing to Butch Otter is to give tax breaks to big business and favors to big donors.