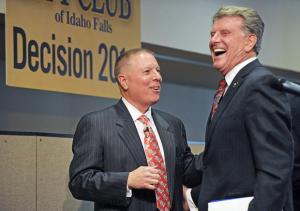 October 31, 2014 – BOISE, Idaho –
Five months after Gov. Otter was authorized by the Legislature to appoint an advisory board to oversee investments made by scandal-plagued state Treasurer Ron Crane's office, Otter still has not appointed that board, Democratic gubernatorial candidate A.J. Balukoff said today.
"According to the governor's office, the investments advisory board that he was authorized to appoint as of July 1 still has not been appointed," Balukoff said. "The treasurer's office has been heavily criticized for losing $10 million due to questionable investment practices. After all the controversy surrounding the treasurer's actions, why hasn't Gov. Otter made this a priority–five months after he should have done that?"
Audit reports have been critical of Crane's management of state funds, suggesting that Crane cost taxpayers more than $10 million when he made an inappropriate transfer between two funds. Legislation passed earlier this year and signed by Otter on March 26, which included an appropriation of $10,000, authorized the governor to appoint an investments advisory board to the treasurer's office effective July 1, the beginning of the fiscal year. [Source: http://legislature.idaho.gov/legislation/2014/S1426.htm.]
The state auditor's office, in an audit report released at the end of June, said it still hadn't received documentation showing that Crane's office has reviewed all potentially problematic transactions.