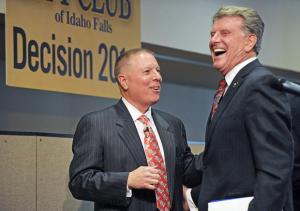 October 10, 2014 – Idahodems.org –
AJ Balukoff again made Butch Otter defend his record of dragging Idaho to last in the nation in wages and education investment. But there's a gem buried at the end of the Post-Register story regarding Otter's gentle treatment of Idaho's private prison contractor.
Otter says he didn't step in after Corrections Corporation of America admitted to overbilling We the People of Idaho for thousands of staff hours because Otter is beholden to that contractor:
"I purposefully did not involve myself in the negotiations with CCA because I had received money from CCA for my campaign," he said.
And Otter now has a lobbyist for CCA helping to run his campaign.  And now the FBI is investigating.  Otter could not be clearer who he answers to–the big lobbyists and out-of-state corporations who give him contributions.