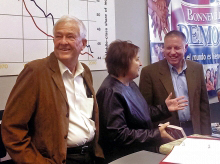 Bonneville County Democrats and the AJ Balukoff campaign staff are now sharing office space in Idaho Falls at 404 South Utah, next to Jimmy John's Sandwich Shop and across the parking lot from the Walmart on the west side of town.  It is easy to find.  Look for the Bonneville Democrats and AJ Balukoff signs on the front of the building.
In conjunction with the AJ Balukoff and Bert Marley campaign staff and John Radford, we are having a grand opening celebration of our headquarters on Monday, September 29, from 5:00 to 6:30.  Please come out for the ribbon cutting and a chance to speak directly with AJ, Bert, and John.  A few minutes listening to these men will inspire you to volunteer to help them succeed in this election.  This is also an excellent opportunity to pick up yard signs for the AJ Balukoff and the Nels Mitchell campaigns.
Office manager Sharon Coyle is staffing the office Monday through Friday and also organizing materials for direct mailings and the distribution of campaign literature.
The office is open from 10:00 in the morning to 6:00 in the evening on Monday through Friday and from 10:00 to 4:00 on Saturday.  Stop by to pick up yard signs, candidate literature, and early voting information.
We also need volunteers to help with our door-to-door campaign.  If you can share an hour or two to knock on a few doors and deliver campaign cards, let Sharon know at headquarters (208) 200-0763 or call Jim Francis at (208) 360-0138.